RECENT AIRCRAFT MISHAPS-(Information extracted from the AIr Accident Investigation Branch bulletins)
9.8.2000 Baginton,G-BYBZ Jabiru SK right wing lifted whilst taxi for take off in crosswind conditions,aircraft tipped forward and propeller struck the ground.
13.11.2000 G-BWVG Robin HR200/120B was damaged beyond repair when it forced landed 2 miles south of Caernarfon airport due to fuel starvation when the fuel cock was accidently knocked to the off position,the aircraft was part of the Air Atlantique training aircraft fleet at Baginton and recently suffered a forced landing at Draycott Water due to a loosening of the cylinder head.
7.2.2000 Agusta A109C of Irvine Aviation had to make a forced landing near Baginton airport due to vibration problems caused by a loosening of a rotor tip cap which failed in flight.
28.8.2000 N88PL Piper PA46-310 Malibu lost power on take off from Grove Fields farm strip,Wasperton the aircraft landed ahead going through a fence into the next field,a previous accident similar to this one occured during August 1999.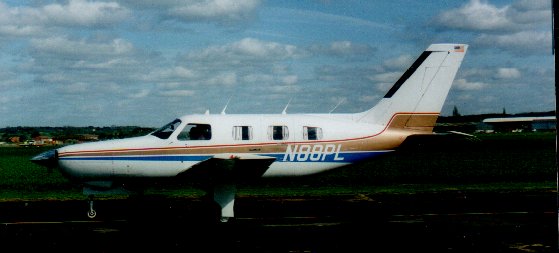 Pictured in happier circumstances at Wellesbourne by Dave Peace this photograph was taken on 11.4.99 and shows the sleek lines of this expensive executive aircraft.
Twin Otters VP-FBB and VP-FBC were frequent visitors to Midlands airfields and airstrips during the summer of 2000,Dave Peace caught them on camera at Old Warden on 6.8.2000,earlier in the month one visited the Combrooke airstrip in Warwickshire after making several approaches.
The aircraft are part of the British Antartic Survey and spend their summers in the uk,this year it was to be Kidlington,they have also been crew training at Baginton during their uk stay.photograph is top right above the Jackaroo.

Huddled together to protect them from the gales in March 1989,Dakotas forming the backbone of the Air Atlantique fleet are due to be retired from the Pollution control role having given sterling service for the company,it is expected that at least one grand old lady will be retained for pleasure flying but the future of the rest of the fleet is uncertain,in the background is the short lived (in Atlantique colours) Avro 748 G-BEKG which prior to its appointment had been used by the Baginton based Venture airways formed by Peter Jones who also formed Air Commuter.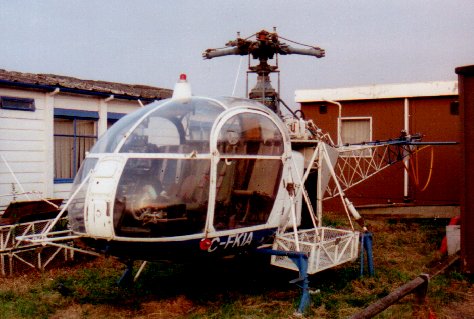 Resident behind the Helitechnique offices at Baginton for a while was this well worn Alouette SA315B C-FKIA,Dave Peace who took this photograph asks what became of this helicopter? as it suddenly vanished overnight.The photograph was taken on 8.7.97.Thanks to Jeremy Parkin at www.rotorhub.com who tells me that the helicopter was shipped back to Spokane near Seattle and became N1109 (the four digit registration is unusual)
To view archive pages of Wings Over Warwickshire click onto this link.
Build cardboard aeroplanes that really fly- click here to enter my aircraft model building pages
Flashback to 25.3.88 when this beautiful Hunter WT651/7532M was pride of place at the headquarters of 8 Group Royal Observer Corps at Church Lawford,Warwicks,the ROC was sadly disbanded and the headquarters are now derelict despite many attempts to use the wonderful building for other purposes including an underground night club! Your authors attempts to have it retained as a museum failed but it was worth a try.The Hunter faired better and is now lovingly cared for by the Newark Air Museum at Winthorpe airfield.
AIRCRAFT MOVEMENTS-
8.11.2000 G-BULH C172 Blackpool-Blackpool,diversion from Staverton eventually landed Leicester.
G-OTHE Enstrom 280c Shark,Goodwood-Southam site,normally Corley based.
G-OMAC C172E Rocket,Liverpool-Lydd.
G-BLFW Grumman AA5 Baginton.
G-GOTO PA32R Baginton.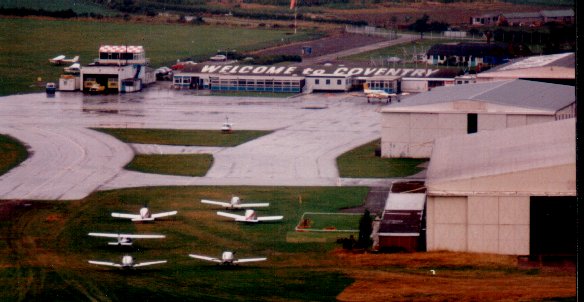 Coventry (Baginton) taken from the Fuji airship on 14.8.86,Coventry has undergone many changes since this photograph was taken and if anyone out there has a more recent photograph then I will be delighted to hear from them.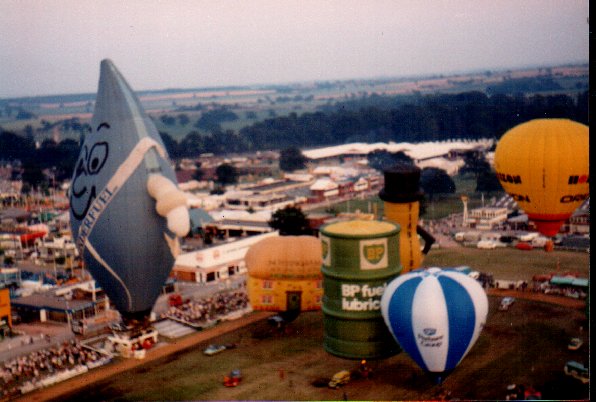 Every year hundreds of hot air balloons take to the skies over Warwickshire,to represent this leisurely mode of flight we portray here balloons ascending from the Royal Showground at Stoneleigh,Warwickshire,I took this photograph as a passenger in G-BLJG on 4.7.84 during a balloon race called the Hare and the Hounds which takes place every year at the Royal Show.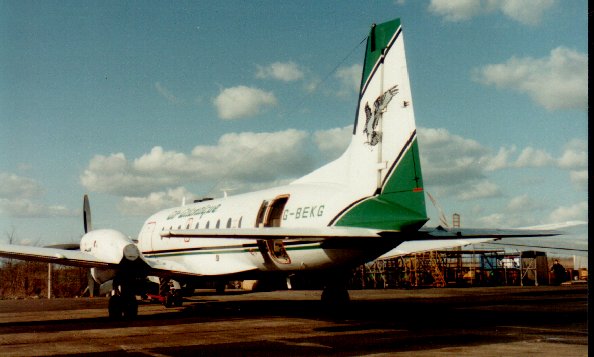 By popular request here is another rare photograph of the former Air Atlantique Avro 748 G-BEKG photographed at Baginton on 13.3.89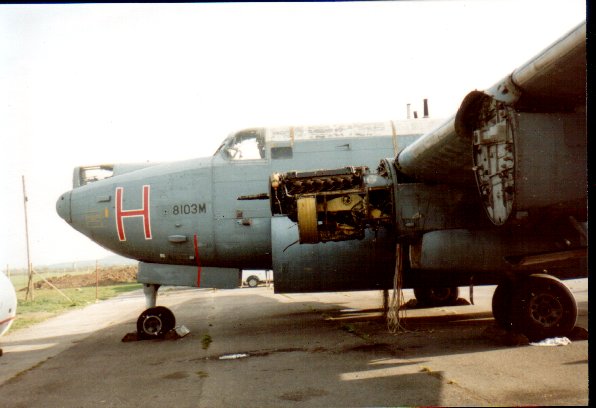 Fast decaying at Long Marston is this ex 2 School of Technical Training RAF Cosford Shackleton MR.3/phase 3 aircraft WR985/8103M sadly the ravages of time have taken their toll on this airframe.Picture taken on 21.3.90 by Barry Clay.
AIRCRAFT MOVEMENTS-
7.11.2000 G-BZEI Agusta A109 Private site Swindon-private site at Wigan.
G-BWHF PA31 Awyr Cymru cyf,Gamston-BHX.
10.11.2000 N4422P PA23-160 Garion (Apache conversion) Little Staughton-BHX in connection with Yak 18T RA81584.



GONE BUT NOT FORGOTTEN-Derbys Burnaston Airfield was sadly closed in 1988 in favour of a Japanese car factory.This is where British Midland Airways started its operations as Derby Aviation flying services to Jersey from this wonderful grass airfield,such names as David Ogilvy and Buster Paine made their mark here.Derby Aviation started flying Miles Marathons and Dakotas ansd secured the school childrens air experience flights with local education authorities.The whole Burnaston closure was handled in a disgraceful manner and it was a sad day for Aviation.
Archive photograph.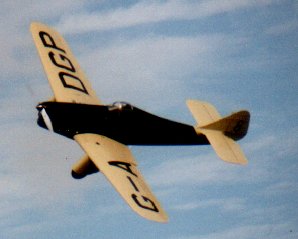 Stunning shot of Buster Paines racing Miles Hawk Speed Six G-ADGP rounding the imaginary pylons at Old Warden circa 1997.This aircraft lived at Burnaston for many years amongst the Dakotas,Marathons and Canadair Argonauts.
The picture is an example of the photographic skills of Dave Peace.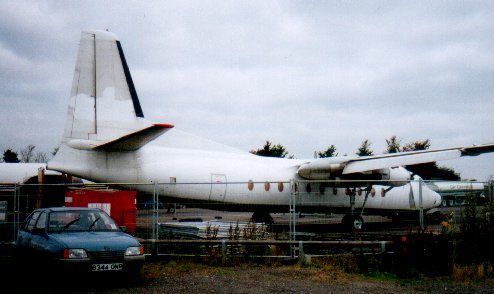 Now fit and healthy again after its ordeal when it decided to carry on through the perimeter fence at Coventry on 1.7.2000,although devoid of any markings here this is G-JEAP Friendship taken on the occasion of the Aircraft Radio Museum auction day 5.8.2000 it appears that the brakes failed causing extensive damage to the nose area and the perimeter fence! Aircraft are used for cargo operations into Baginton by Channel Express.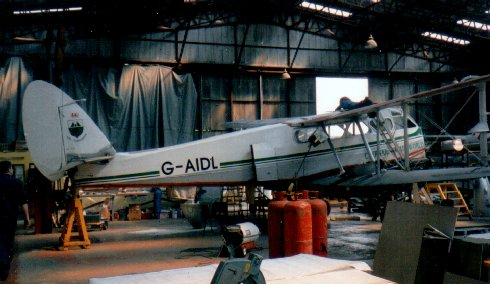 The Air Atlantique Historic flight has moved into another hangar at Coventry and houses a wonderful collection of flying vintage aircraft,chance to show here on major overhaul the former Foxs Glacier Mints Rapide G-AIDL which together with G-AGTM are used for pleasure flying during the summer months when special enthusiasts weekends are organised.
This picture was taken during a check 4 at Baginton on 25.4.95 the aircraft was former RAF ambulance TX310.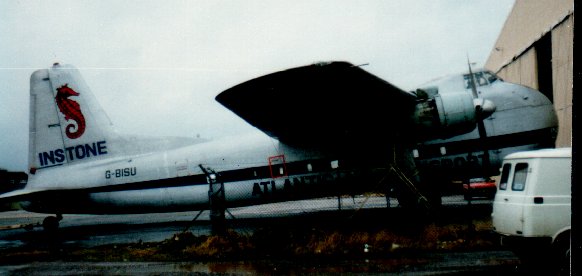 FLASHBACK-G-BISU Bristol Freighter was operated on behalf of Instone for race horse charters by Air Atlantique,the aircraft returned to Canada operated by Safair and was then purchased by a consortium in the UK.Sadly the aircraft was written off taking off from Enstone when a ground loop developed and the aircraft was heading towards some hangars,the nose section lay at Enstone for some time.
Archive photograph by Barry Clay.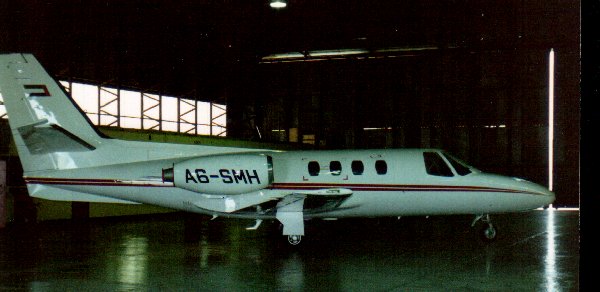 Most exotic of all the Cessna Citations to visit Coventry goes to this one registered in the United Arab Emirates as A6-SMH,ex G-BFAR,ZS-LPH and N36912.Caught by the camera when it was hangared in Doller Helicopters hangar on 1.6.87
Archive photograph by Barry Clay.
EX WELLESBOURNE HELICOPTER PILOT ESCAPES CRASH-
Former Wellesbourne agricultural helicopter pilot Bill Scarratt,who once flew Bell 47G crop sprayers from a farm site only down the road from the airfield was lucky to escape when his Bell Jet Ranger G-OBAY ditched,following a ditching into Lake Windermere on Friday 5th January 2001,the pilot who was on his way to pick up a businessman from the Botany Bay Shopping centre in Chorley,Lancs.After ditching Bill Scarratt managed to swim half a mile to safety.
The pilot was employed by Brian Seedles Heli 2000 company and was an ex member of Red Devils team,he puts his survival down to his military training.
The helicopter was salvaged on 10th January for investigation by the Air Accident Investigation Branch at Farnborough.
MAJOR EXPANSION PLANS CONTINUE AT BIRMINGHAM INTERNATIONAL-
Birmingham International airport will continue with its expansion plans well into the millenium it is reported today 15.1.2001,the airport handled an impressive eight million passengers in the year 2000.This brings the airport to be the fifth largest in the United Kingdom,the success of the airport has been put down to the increase of flights to exotic places such as the new Emirates daily service from the airport.
2001 INTERESTING AIRCRAFT MOVEMENTS-
2.1.2001 G-BFVG PA28 Fairoaks-Blackpool.
G-RICE R22 Lifted from owners site at Draycott-Baginton.
G-BYFR Saratoga,Baginton.
G-ONPA Navajo To Hurn in company with G-OBNA Seneca,through BHX zone.
G-BWYO Frati F8L Falco (kit built)Baginton.
G-OSCE Cessna 421 Sandtoft-BHX.
G-MURY R44 Wellesbourne-Nottingham site.
N184CD Cirrus SR20 Ballistic recovery aircraft,Baginton (see separate report on this aircraft).
G-SOHI Agusta A109,Elstree-Baginton,Tri Ventures group.
G-FORS T67C Firefly,Baginton.
3.1.2001
G-COPT Squirrel EMA-Bath-Fairoaks.
G-OFIL R44,Denham-Wellesbourne.
G-IYET R22,Leeds-Baginton.(does anyone have a photograph of this helicopter?)
G-NSHR R22,Wellesbourne-Sheffield.
LY-APP Yak 18T,Leicester-Wellesbourne.
G-BXYK R22,Baginton-Wellesbourne.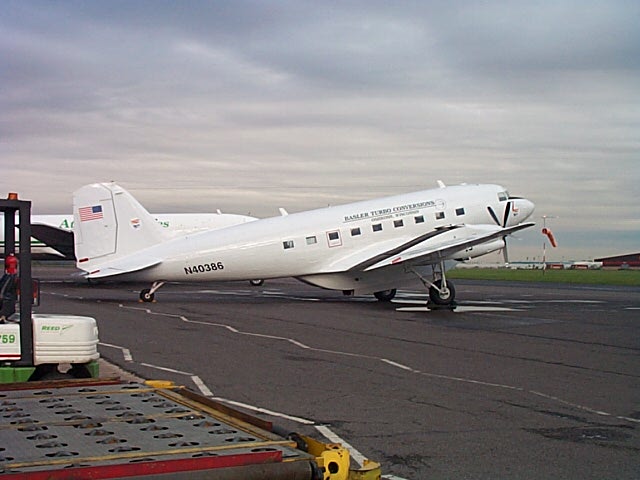 Ewen Taylor of Fleet80uk (owner and rebuilder of Fleet Canuck G-FLCA)took this photograph at Baginton on 21.10.2000 of the Bassler BT67 Turbo Dakota conversion N40386.The aircraft was on a European sales tour and had its ferry tanks removed and refitted by Air Atlantique,on 15.11.2000 it returned briefly again and flew out again early next morning back to its base at Oshkosh in the USA.
Basslers have visited past Farnborough SBAC shows.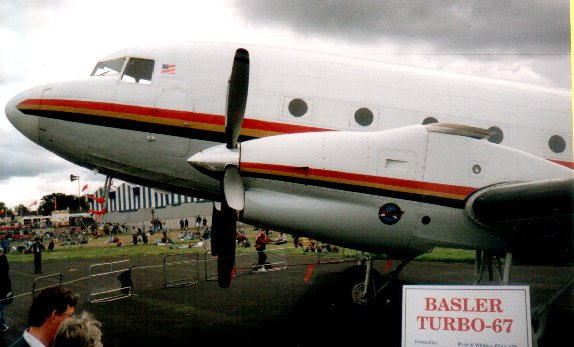 Bassler converted Dakota as it appeared at the Farnborough air show on 12.9.92,note the plug inserted into the front nose section to bring the aircrafts centre of gravity forward,this aircraft is N96BF.
Barry Clay Aviation Archives photograph.
Strong contender for the Dakota prop jet conversion market is this Proffesional Aviation Douglas Turbo DC-3 registered in South Africa as ZS-LYW,the aircraft appeared at the Farnborough Air Show on 12.9.92,compare the two aircraft design differences to the engine nacelles.
Barry Clay Aviation Archives photograph.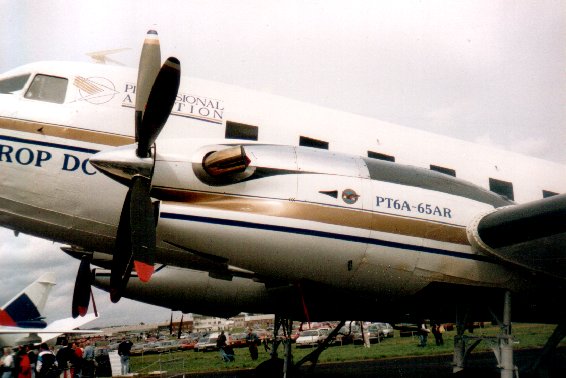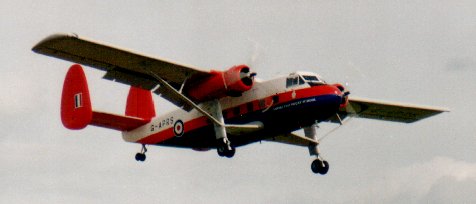 The slow flying characteristics of the Scottish Aviation Twin Pioneer have to be seen to be believed,this was demonstrated at the fifties style airshow held in August year 2000 at Coventry.Here is 'Primrose' as she is affectionetly called with flaps extended and leading edge slats out flying very slowly indeed.The aircraft has been used in a variety of interesting roles over the years one of which was heat seking loss tests done over the UK,the outcome was the saving of a lot of money in wasted energy from such diverse places as private homes to factories.
Flight One at Staverton and Shobdon once operated this wonderful aircraft as G-BCWF but it has reverted back to its original marks of G-APRS,the colourscheme is authentic as it used the raspberry ripple scheme when in service with the Empire Test Pilots school as XT610.
Picture credit-Dave Peace.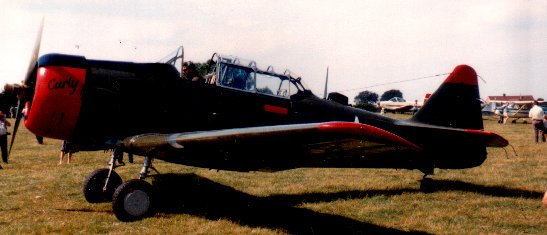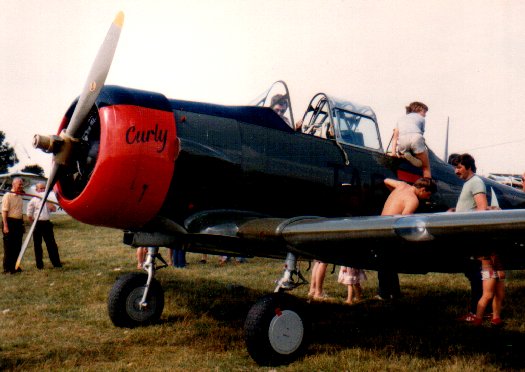 FLASHBACKS-Around 1983-85 I used to help keep a Cessna 170 G-BCLS flying from an airstrip called Shotteswell ran by a great guy called Fred Spence,I spent many happy hours there messing about with aeroplanes.At that time regular vintage aircraft ralliese held at this strip near Banbury in Warwickshire this is were this T-6G Harvard G-BGHU was photographed being taxied here by Tony Hooper on 1.7.84.
The aircraft has quite a chequered history being ex Portuguese Air Force FAP.1707 and prior to that French Air Force 115042,the aircraft seen here painted as 'Curly' was sold soon after these photographs were taken,it was normally based at Wellesbourne airfield.
Barry Clay photograph.
FOCUS ON TYPE-THE AVRO 19 (SOMETIMES REFERRED TO AS THE ANSON BUT THE TRUE ANSONS ARE MK.1's)-
A selection of photographs from my files of this interesting gentle breed of aircraft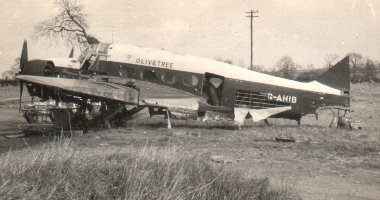 G-AHIB Avro 19/1,Wymeswold 12.3.62,c/n 1317,built 1946,Pomerot Developments Ltd,photographed by Dave Peace who tells me the colours were green/white.

G-AHKX Avro 19/2 c/n 1333,ex Smiths Aircraft instruments hack aircraft,built 1946,shown here in Treffield Aviation formed by Lord Trefgarne who later was a shareholder at Executive Air Engineering Ltd at Baginton.
Gemini Aerofots picture.
G-AGWF Avro 19/1 c/n 1287,built 1946,Fairways (Jersey) Ltd,
Gemini Aerofotos picture.

VM318 Avro C.19 at St Mawgen 1960,CL44 in background.
Barry Cole picture.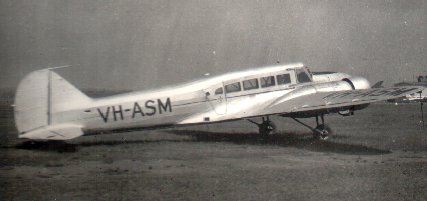 VH-ASM A true Anson Mk 1,this aircraft now in the uk awaiting restoration.
Via N.M.Parnall photograph.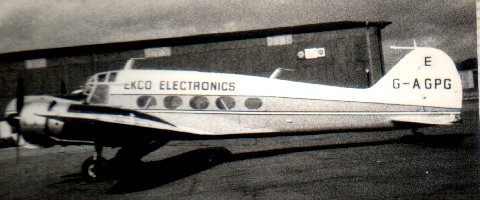 G-AGPG Avro 19/2 c/n 1212,used by Ecko for research and hack,built 1945,to Historic Aircraft Museum Southend,believed broken up,photographed at Baginton circa 1963-64.
Picture-Gemini Aerofotos.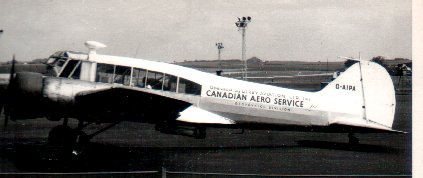 G-AIPA,Anson 1,ex RAF EF866,built 1942,withdrawn from use April 1960,Derby Aviation Ltd/Canadian Air Service which was a subsidiary company specialising in magnetometer research,aircraft had trailing monitoring equipment.
Picture-Aviation Archives.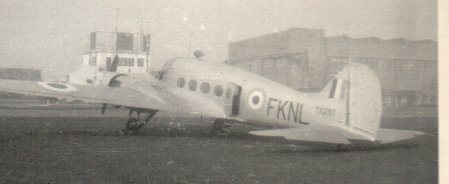 Taken on a foggy day at Finningley in 1948 this a A.V Roe Yeadon built Avro C19,we make no excuses for the picture quality of this historical photograph.
With thanks to E.G Hall,Leamington Spa.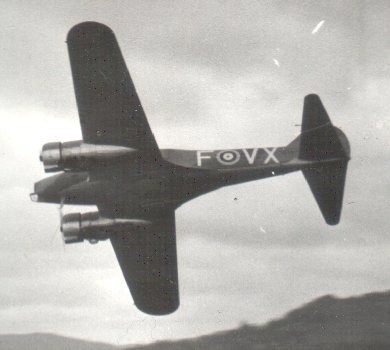 David Ogilvy putting Avro 652a Anson 1 through its paces at a Skyfame Staverton airshow in the seventies,the aircraft was built in 1938 with two Armstrong Siddeley Cheetah 9 engines and became part of the Derby Aviation magnetometer fleet which together with civilian Mosquitos performed extensive research work for minerals in Canada.
The aircraft is G-AMDA and was ex RAF N4877 coded FV-X it eventually went to Duxford on the demise of Skyfame,this museum was way ahead of its time however Peter Thomas who was the founder together with his wife carried on with aircraft restoration at Duxford.
Picture-Gemini Aerofotos.