To navigate your way simply click onto any of the above subjects which will take you straight to the page that you want.
LOCAL BANGS AND PRANGS
Information extracted from the Air Accident Investigation Branch bulletins.
9.8.2000 Baginton,G-BYBZ Jabiru SK,right wing lifted during taxi for take off in crosswind conditions,aircraft tipped forward and propeller struck the ground.
13.11.2000 G-BWVG Robin HR200/120B was damaged beyond repair when it forced landed 2 miles south of Caernarfon airport due to fuel starvation when it is believed the fuel cock was accidently knocked to the off position,the aircraft was part of the Air Atlantique training fleet at Baginton and recently suffered a forced landing at Draycott Water due to a loosening of the cylinder head.
7.2.2000 Agusta A.109C of Irvine Aviation had to make a forced landing near Baginton due to vibration problems caused by a loosening of one of the rotor tip caps which failed in flight.
28.8.2000 N88PL Piper PA-46 Malibu lost power on take off from Grove Fields farm strip,Wasperton the aircraft landed ahead going through a fence into the next field,a previous accident similar to this one occured in August 1999.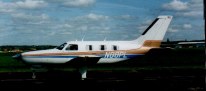 Pictured at Wellesbourne on 11.4.99 Dave Peace took this photograph of this sleek high performanceexecutive aircraft.
30.7.2000 G-AWWN Jodel DR1050 struck a small tree at Baxterly airstrip during a go round damage to the aircraft included the lower wing,aileron and pitot head.