WORLD AVIATION -Subjects not directly applicable to this area but of interest to aircraft enthusiasts worldwide.
This unique twin seater Piper Pawnee 235D is the only one in the world,all of the modifications were carried out locally by an aviation agricultural company in the United States,the aircraft is currently up for sale.
Picture courtesy of Dr Steven Jacobs.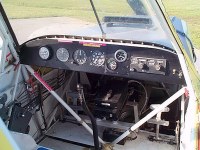 The twin cockpit layout of this unique aircraft can be seen to good effect here,quite spacious layout,the machine fills a big gap in instructing future ag pilots.
Your comments on the WORLD AVIATION or WINGS OVER WARWICKSHIRE parent site are always welcome,please feel free to sign my guest book-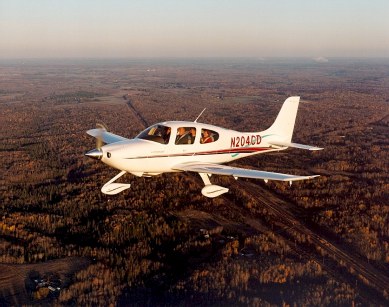 On Tuesday 2nd January 2001 the first production aircraft designed to have a built in parachute for recovery visited Coventry Baginton airport,the aircraft a Cirrus SR20 N184CD paid a brief one hour visit to the airport.
The aircraft has recently received a full FAA type certificate after extensive testing in the United States,and the aircraft has a good order book
Manufactures of this fascinating aircraft with its side stick control system are-
Cirrus Design,Dulluth,MN,55811-1548 who kindly supplied the photograph above of an aircraft similar to the one that visited Coventry.