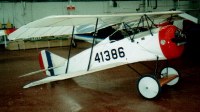 This Thomas Morse Scout replica G-MJTD was to have been the first of many world war one replicas to have been built in a factory at Coventry Baginton airport in 1988,this prototype was built by DEGA Engineering and was said to have flown at least once,photographed on 3.4.88 in the old Sir W.G.Armstrong Whitworth black hangar at Rock Farm it was later transferred to a new building Northside of the airfield but after this was not seen again.

FORMER WELLESBOURNE HELICOPTER PILOT ESCAPES CRASH.

Former Wellesbourne agricultural helicopter pilot Bill Scarratt,who once flew Bell 47G crop sprayers from a farm site only down the road from Wellesbourne airfield was lucky to escape when his Bell Jet Ranger G-OBAY ditched into Lake Windermere on Friday 5th January 2001,the pilot was on his way to pick up a businessman from the Botany Bay Shopping centre in Chorley,Lancs when the accident happened.

Luckily he managed to swim a mile back to shore to safety.The pilot was employed by Brian Seedles Heli 2000 company was an ex member of the Red Devils team and puts his survival down to his military training.The helicopter was salvaged from the lake on 10th January for investigation by the Air Accidents Investigation Branch at Farnborough.